Customer Reviews
06/08/2020
CHRISTINA L.
United States
09/28/2020
Joan G.
United States
6" standard bully sticks
I have bought these treats before and were order free. Received new package just a few days ago. My dog has enjoyed them very much. Me not so much. Out of the first 3 he has chewed on, 2 have been anything but order free. Unfortunately for me, I need to hold it for him. Otherwise he runs and jumps on and off the furniture with it in his mouth. I am concerned he may hurt himself since he is a clumsy goofball Hoping the 47 other ones are order free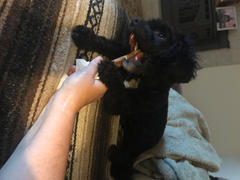 LP
09/17/2020
Lori P.
United States
Disappointed-Inconsistent Width
Been buying these for my dog for a while now and this was the first package I bought with such a wide range of stick widths. Generally, the sizing is very consistent--which I prefer. I would say about 7 to 10 out of the 50 are thinner than a pencil--not even sure I will give those to my dog (she would chew through it in a minute). So I basically feel like I received a smaller package. The photo the company uses to accompany this review has sticks that are very consistent in size (length and width)--they should consider changing it to more accurately reflect what is in the package.
09/15/2020
Amanda R.
United States
Best bully sticks
I am a long time customer of these! They don't smell strongly like other bully sticks and my puppy loves them!!
09/13/2020
Karen D.
United States
Dog loves them But they are far from odor free